Congratulations to the Winners of eCR Now COVID-19 FHIR App Challenge!
APHL and the eCR Now initiative, along with the CDC Foundation (external link) are excited to announce the winners of the eCR Now FHIR® App Challenge.
The Challenge called on healthcare organizations to implement electronic case reporting (eCR) for COVID-19 and other diseases with the goal of supporting public health agencies with more timely and complete data.
The judging panel selected three award recipients from the applicants that participated:
AllianceChicago, Chicago Illinois (in the underserved population ambulatory category)

LMH Health, Lawrence Kansas (in the hospital and ambulatory categories)

Cerner Corporation, Kansas City Missouri (in the hospital category)
Awardees were recognized in two categories using the eCR Now FHIR® App ("the App") and the HL7 FHIR® standard. The App enables eCR, helps meet legal reporting requirements, fulfills CMS' Promoting Interoperability Program requirements, and moves public health forward nationally.
Awardees, collectively, represent a large market share and therefore a number of healthcare organizations eligible to adopt the App within their organizations, consistent with the goal of the Challenge of supporting public health agencies with better data. One awardee represents a large ambulatory network serving underserved populations in the Midwest, which was an emphasized category of award.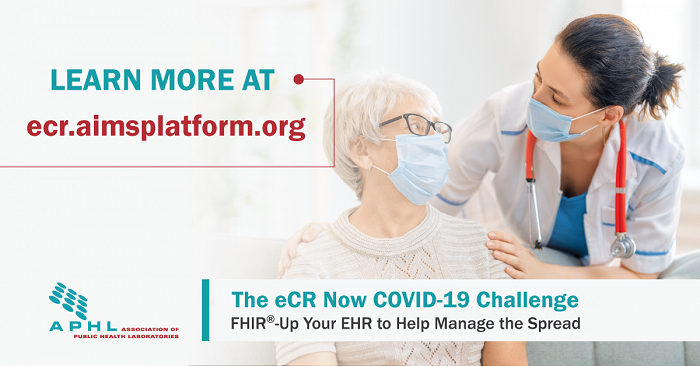 Consistent with the objectives of the Challenge public health reporting will be improved supporting public health on COVID-19 reporting and through other notifiable condition reporting as enabled by the App. These more timely and complete data will support public health by improving local public health's ability to respond to outbreaks, analyze disease trends, and measure impacts of public health interventions for years to come.
While the Challenge has ended, public health agencies' need for timely and complete data has not. The eCR Now initiative and APHL extend a sincere thanks to all participants. Interested healthcare organizations and electronic health records (EHRs) can contact us for more information (eCR-info@aimsplatform.org).